Marine sports in Esashi
Reservations are no longer available for 2019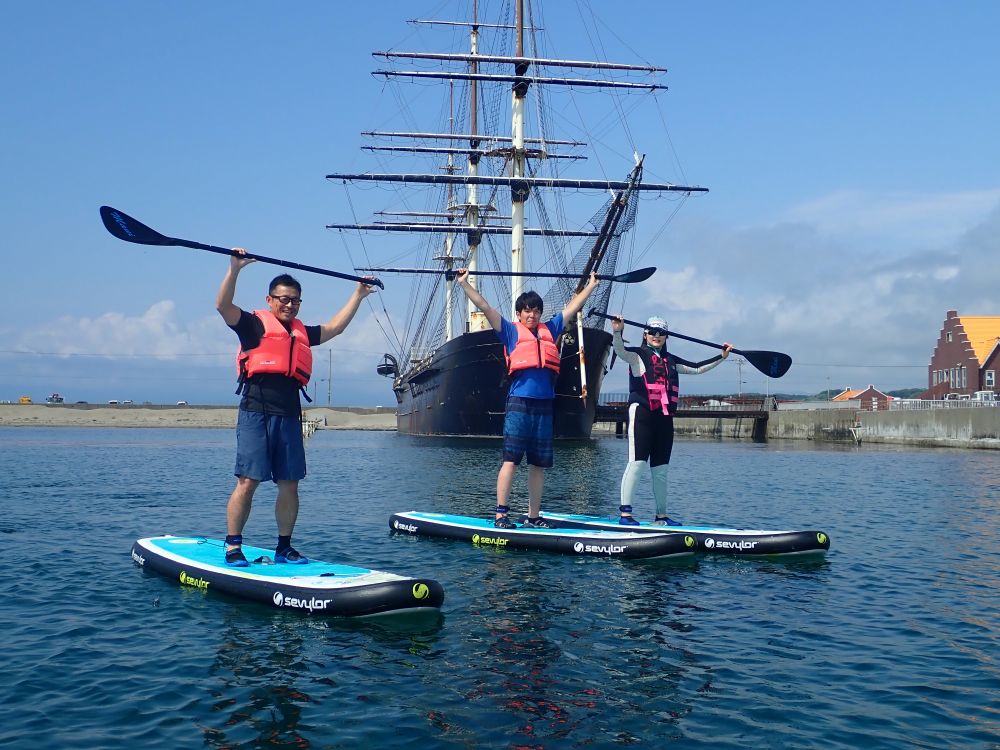 Why not try some paddle surfing (SUP) or sea kayaking in the Esashi ocean?
Available term of dates
Between 6th July until 30th September 2019
(Booking is essential and available up until 2 days prior to the date of the activity.)

Time
1.10:00 -
2.13:00 -
3.14:30 -
*It takes about 1 hour for 1 session.
Location of activities
Esashi Port Marina ~ around Kamomejima Island (up to Umaiwa area)
Location of activities
Paddle surfing (SUP) Up to 3 people maximum
Sea kayaking     Up to 5 people maximum

*1 group can only choose 1 activity per session. Please choose one activity for the group.
Pricing
3,240 yen (tax incl.) / per session, per person
*Please pay at the reception on the day. Only cash excepted.
How to book / Contact
Call us or visit the reception of Esashi tourist information centre (inside the Kaiyomaru Museum) for questions or reservations.

【Inquiries】
*Kaiyomaru Museum
+81-139-52-5522
*Opening hours 9:00 - 17:00
Please read the information below.
Notice
Drinking alcohol or intoxicated patrons are not allowed to participate.
You can not bring your pet with you.
Bookings must include both rental equipment and a guide.

We will not take responsibly for loss or damage to your cameras or smartphones.
You will be insured under the event organizer's insurance but this does not include personal public liability insurance.

Pregnant women or women who recently gave birth are not allowed to participate for their own safety.
If you have any other concerns in regards to your health condition, please let us know and we can discuss it with you when making the reservation.
About weather
Events are dependant on the weather. Even if it is raining, as long as there is no strong wind we will be able to host the event.
If an advisory of heavy rain, strong wind or high waves is issued the event will be cancelled.
If an event is cancelled due to weather, we will contact you by 17:00 the day before. If the weather suddenly turns bad on the day of the event, we will be in touch 2 hours prior to the booked time.
In the case of an event being cancelled please note that we will not be able to cover the cost of any transportation fee which you may have incurred.
What to bring
Swimsuits or anything that's ok to get wet, bath towel, sandals with straps around ankle (no flip-flops are allowed).
Useful additional things to bring
Straps if you are wearing glasses, sunscreen, hat, marine shoes, drinks (non-alcoholic) and wetsuits depending on the weather.
Cancellation policies
Please cancel up to 17:00 2 days before the date of booking for a full refund. 50% of the total cost may be charged if you cancel the day before, while 100% of the total cost may be charged in case of no show or cancelling on the date.
Other things to note
Please come to Esashi tourist information centre (inside the Kaiyomaru Museum) 10 minutes prior to your booking time.
We only accept cash for booking sessions
Anyone participating must fill out an application and agreement form before the session. If a child under 18 years old is participating we need agreement from their parents.
Please note that some dates might not be available due to maintenance or events.
Please download the agreement of participants below and bring them on the date of your session.
Location of reception