Esashi Port - Okushiri Port
Heart Land Ferry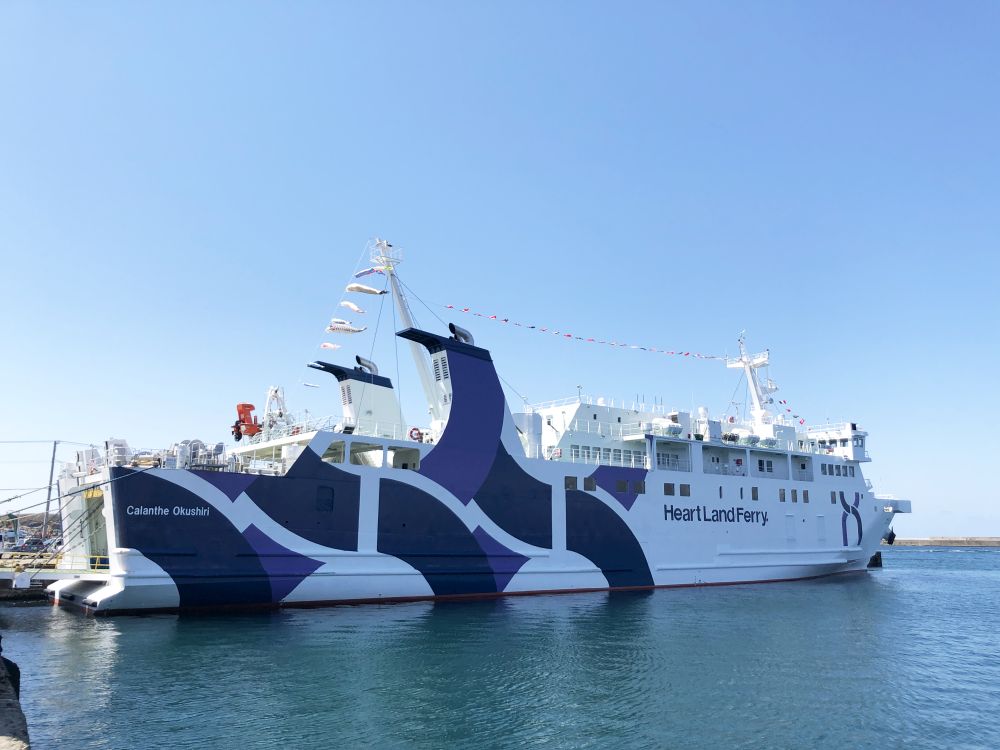 Today's Heartland Ferry Operation Status (Okushiri route)
Sep.24th 5:30 Update
Esashi→Okushiri(Okushiri Island)
12:00~14:10
Calanthe Okushiri

Operation
Okushiri(Okushiri Island)→Esashi
07:00~09:10
Calanthe Okushiri

Operation
1st January 2022 to the 31st March2022
Esashi → Okushiri(Okushiri Island)
|   | Esashi Port |   | Okushiri Port |
| --- | --- | --- | --- |
| 1st ship | 13:00 | → | 15:20 |
Okushiri(Okushiri Island)→ Esashi
|   | Okushiri Port |   | Esashi Port |
| --- | --- | --- | --- |
| 1st ship | 08:15 | → | 10:35 |
1st April 2022 to the 28th April 2022
Esashi → Okushiri(Okushiri Island)
|   | Okushiri Port |   | Esashi Port |
| --- | --- | --- | --- |
| 1st ship | 07:00 | → | 09:10 |
Okushiri(Okushiri Island)→ Esashi
|   | Esashi Port |   | Okushiri Port |
| --- | --- | --- | --- |
| 1st ship | 11:00 | → | 13:10 |
29th April 2022 to the 5th May 2022
Esashi → Okushiri(Okushiri Island)
|   | Esashi Port |   | Okushiri Port |
| --- | --- | --- | --- |
| 1st ship | 09:40 | → | 11:50 |
| 2nd ship | 17:40 | → | 19:50 |
Okushiri(Okushiri Island)→ Esashi
|   | Okushiri Port |   | Esashi Port |
| --- | --- | --- | --- |
| 1st ship | 07:00 | → | 09:10 |
| 2nd ship | 15:00 | → | 17:10 |
6th May 2022 to the 30th June 2022
Esashi → Okushiri(Okushiri Island)
|   | Okushiri Port |   | Esashi Port |
| --- | --- | --- | --- |
| 1st ship | 07:00 | → | 09:10 |
Okushiri(Okushiri Island)→ Esashi
|   | Esashi Port |   | Okushiri Port |
| --- | --- | --- | --- |
| 1st ship | 11:00 | → | 13:10 |
Please be aware that after departure if the weather suddenly changes or worsens, you may not return to the port of departure.

Information on cancelled and special sailing times is also provided in the emergency information on this website.
In addition to regular sailing times, up to two extra times per day may be operated depending on requirements.
FARE & RATE
PASSENGER FARE & RATE
ESASHI ⇔ OKUSHIRI ISLAND
FIRST CLASS. A
(Island-view seat)
5,840 Yen
BUSINESS CLASS
ECONOMY CLASS
2,910 Yen