Kobayashi Milk Parlor (Ice Cream Store)
Kobayashi Milk Parlor (Ice Cream Store)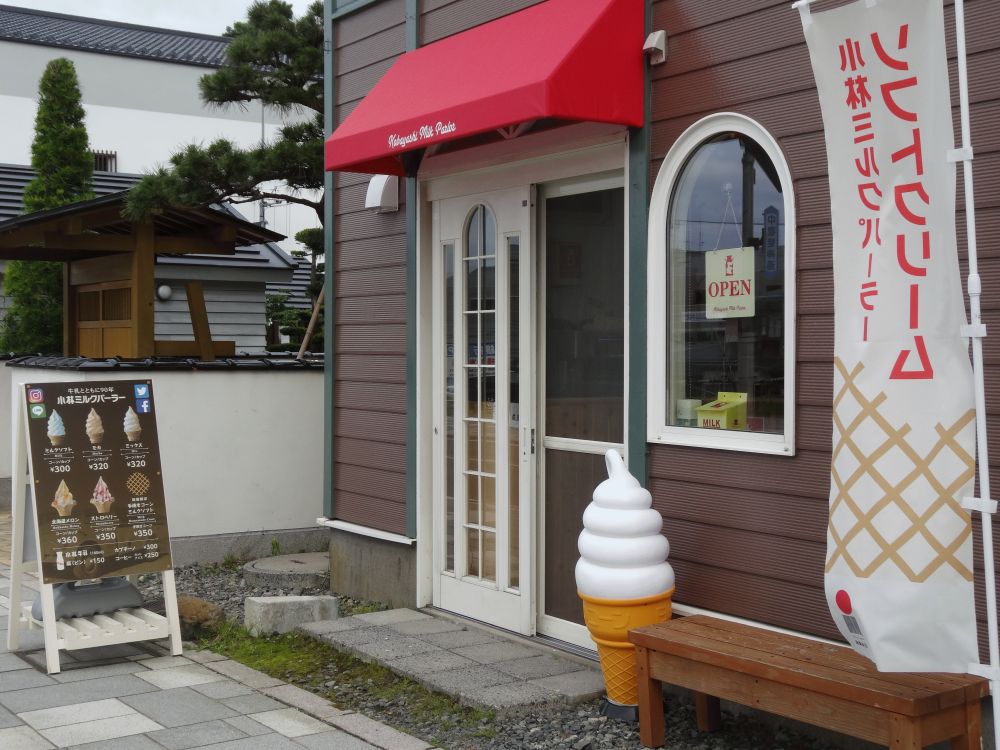 It is a soft ice cream made by the long-established milk shop of 90 years in Esashi.
With a commitment to taste, it is pasteurized at 75 °C for 15 minutes. So that, the protein is less likely to be denatured. This makes the flavor similar to freshly squeezed milk.
You can also enjoy mocha flavor. We also recommend a limited amount of the hand-baked cone.
Please enjoy it.
Classic soft ice cream
Sales of soft serve for this season have ended.
Milk flavor (cone/cup)
300 yen
Mocha flavor (cone/cup)
320 yen
Mix flavors (cone/cup)
320 yen
Hokkaido melon flavor (cone/cup)
360 yen
Strawberry flavor (cone/cup)
350 yen
Milk soft icecream with hand-baked cone
*Limited amount
350 yen
Oyaki
Sweet red beans
(using red beans all harvested in Tokachi)
130 yen
Custard cream
(using milk from Kobayashi farm)
130 yen
Chocolate
(using 100% Belgium chocolates)
140 yen
Uji Kintoki
Green tea cream with Tokachi sweet red beans
140 yen
Other things to note
Kobayashi milk (180ml)
bottles 150 yen
Speciality made pudding
*available on weekends only, limited amount
250 yen
Capuchino
300 yen
Coffee (Hot/ice)
250 yen
About us
| | |
| --- | --- |
| Closed | Monday |
| Opening hour | 10:00 - 17:00 |
| Adress | 59, Aza Nakautacho, Esashi, Hiyama, Hokkaido |
Map
How it looks inside the shop