Enkubutsu Statue and Mokujikibutsu Statue
Enkubutsu Statue and Mokujikibutsu Statue
Enkubutsu Statue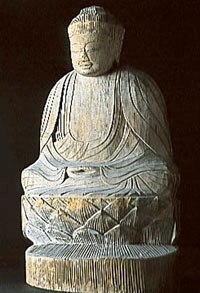 Amidanyorai Statue(Tomari Kannonji Temple)
Raigo Kannon Statue(Kashiwamori Shrine)
Raigo Kannon Statue(Iwaki Shrine)
Mokujikibutsu Statue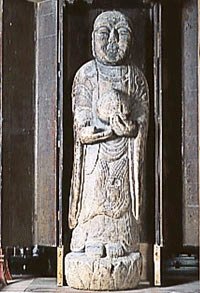 Jizou Bosatsu Statue(Tomari Kannonji Temple)
Koyasu Jizou Bosatsu Statue(Kongoji Temple)

Enku learned Mikkyo (Esoteric Buddhism) at Tendai (sometimes spelled Tiantai) Temple and took part in hard training in the mountains. He came to Hokkaido in 1665 and secluded himself in the mountains to create many statues of buddha. One at Iwaki Shrine in Esashi, one in Kashiwamori Shrine and one in Kannonji Temple still remain from that time. They all reflect true craftsmanship and the beauty of traditional craft art.
On the other hand Mokujikigyodo who created Mokujikibutsu statue, came to Hokkaido in 1778 and stayed in Esashi for 2 years. There are 3 buddha statues of heights of approximately 2m in Kongoji Temple and Kannonji Temple in Esashi, and Houzouji Temple in Kumaishi. There are many smaller statues remaining in private traditional houses around the area.
They are characterized by simplicity and convey folk character and profoundness in the textured wood.
【Inquiries】
Sightseeing Section
Oiwake Sightseeing Department
Esashi Town Office
Address: 193-1, Aza Nakautacho, Esashi, Hiyama, Hokkaido
Postal code: 043-8560
TEL: +81-139-52-6716
FAX: +81-139-52-5666

Regional Culture Section, Social Education Division
TEL: +81-139-52-1047
FAX: +81-139-52-0234