The "Koufukukoui" uproar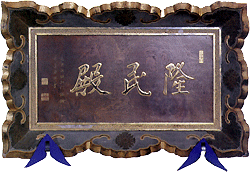 On the frontside of Ubagamidaijingu Shrine is a large plaque that reads "Ryuminden." This was originally a plaque that read "Koufukukoui (roughly: 'to bring good fortune is grand')" and was deposited as a votive offering by the 9th feudal lord Michihiro. However, in 1800, the plaque was confiscated by the shogunate and was taken to Edo (present day Tokyo). At the end of the 18th century, Russia had spread eastwards to the Kamchatka Peninsula, and from here, was making an enthusiastic southward search for warmer seas. Foreign shadows were being cast around the regions of Hokkaido. The Japanese populace at the time fearfully called the foreigners "Akaezo (Red Ezo)." In response, the shogunate ordered the frequent dispatch of expeditions north to Hokkaido and Sakhalin Oblast to investigate. Among such expeditions was a team led by Mogami Tokunai. He had explored the present-day northern territories (Kuril Islands) in 1785 and the southern parts of Sakhalin Oblast in 1792. And in 1799, when Tokunai came to the western Ezo (Hokkaido) lands on patrol, he was bewildered beyond belief to find plaque that read "Koufukukoui" at the Obagamidaijingu Shrine.
"Ryuminden," the plaque from the 13th generation Lord Matsumae Michihiro, Tokunai misread the words as "Koufukukou(red)i." This could be misinterpreted as "good fortune to the Koui (i.e., Red Ezo/Russians)." The Matsumae clan had originally kept the advancement of Russions to the northern regions (of Japan) a secret from the shogunate. Tokunai, who had a distrust of the Matsumae Clan because of the secrecy, reported the matter to the shogunate. The following year, the shogunate dispatched an investigation committee of 25 people who examined the idol at Obagamidajingu Shrine and they took with them the plaque for further scrutiny. This sudden state of affairs is said to have sent the entire castle into chaos. The plaque that was taken back to Edo was interpreted by an acclaimed scholar of the time, Hayashi-daigakunokami-Nobuatsu, who judged the writing to be the original, intended meaning of "Koufukukoui," and the Matsumae Clan was spared from the danger of being abolished. The entire misunderstanding was due to the stylized writing that made "孔 (kou) look like "紅 (kou = red)." Nevertheless, the former feudal lord Michihiro had the plaque changed to its current form, which reads "Ryuminden."
【Inquiries】
Sightseeing Section
Oiwake Sightseeing Department
Esashi Town Office
Address: 193-1, Aza Nakautacho, Esashi, Hiyama, Hokkaido
Postal code: 043-8560
TEL: +81-139-52-6716
FAX: +81-139-52-5666