Benkei no Chikaraishi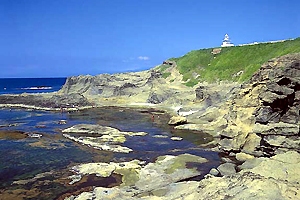 On the side facing to the rough sea, which is the other side of Uma Iwa (Horse Rock), there is a mark that seems to have been made by WARAJI (straw shoes). This is said to be the footsteps of Benkei. Behind it, on the right-hand side of the island's entrance, leading upward, there is a cave like Ooiwa's limestone cave. It is said that this was the hidden place for the scrolls of "Rikuto Sanryaku" which were about the secrets of the martial arts. These were entrusted to Benkei from Yoshitsune. This is reinforcing the legends of Yoshitsune around the Uma Iwa (Horse Rock).
Furthermore, half way up to the white lighthouse, there used to be a rock which was comparable in shape and size to the Heishi rock. It was called "Benkei no Chikaraiwa". Benkei trained with his comrades in preparation for the next war while waiting for information to be delivered from the main island. During the training, they compared their strength and carried the huge rock there.
Once the stone was there, two fishermen rowing in the shadow of the island started arguing.
"The huge rock is not attached because it was carried by Benkei. So, it will move if great power pushes it. It's not a lie, I heard it from my relatives a long time ago."

"Such an idiot, who will believe it, it can't move because it is attached ..."

Neither could be judged to be correct, but the time had finally come. The huge rock was washed away by the waves. It was the day when intense waves crashed over the central part of Kamomejima island. It was the day of the Hakodate Fire in 1934. Since then, it is said that the only waves which passed over the central part of Kamomejima island were from the Toyamaru Typhoon 20 years later.

From "Esashi Hyakuwa, Traditional Folktales / Legends / History"
【Inquiries】
Sightseeing Section
Oiwake Sightseeing Department
Esashi Town Office
Address: 193-1, Aza Nakautacho, Esashi, Hiyama, Hokkaido
Postal code: 043-8560
TEL: +81-139-52-6716
FAX: +81-139-52-5666