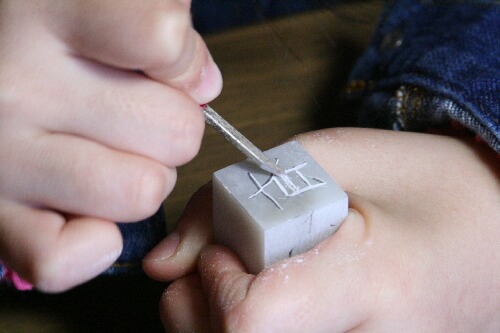 Details
On the 14th October, 1846, many poets gathered at Unsekirou of Oushu Saito, and poetry meeting was held. The 100 marks 100 poems were completed by the main poet Mikisaburo Rai and Takeshiro Matsuura by taking themes, Mikisaburo Rai would write a form of poem called gogonzekku, and Takeshiro Matsuura would engrave the theme into the stone. So why not step into the shoes of Takeshiro Matsuura by engraving with a hanko stamp making experience?
Pricing
1 Hanko stamp 500 yen
Time
You can take part in the experience whenever we are open.
Each hanko stamp takes between roughly 20 and 30 minutes to make.
Number of People
Only about 4 people can do it at one time.
Groups are accepted if we can receive prior notification (1 month prior).
Inquiries / Booking
Please use the contact form for inquiries and booking