About Ubagamidaijingu Shrine Togyo Festival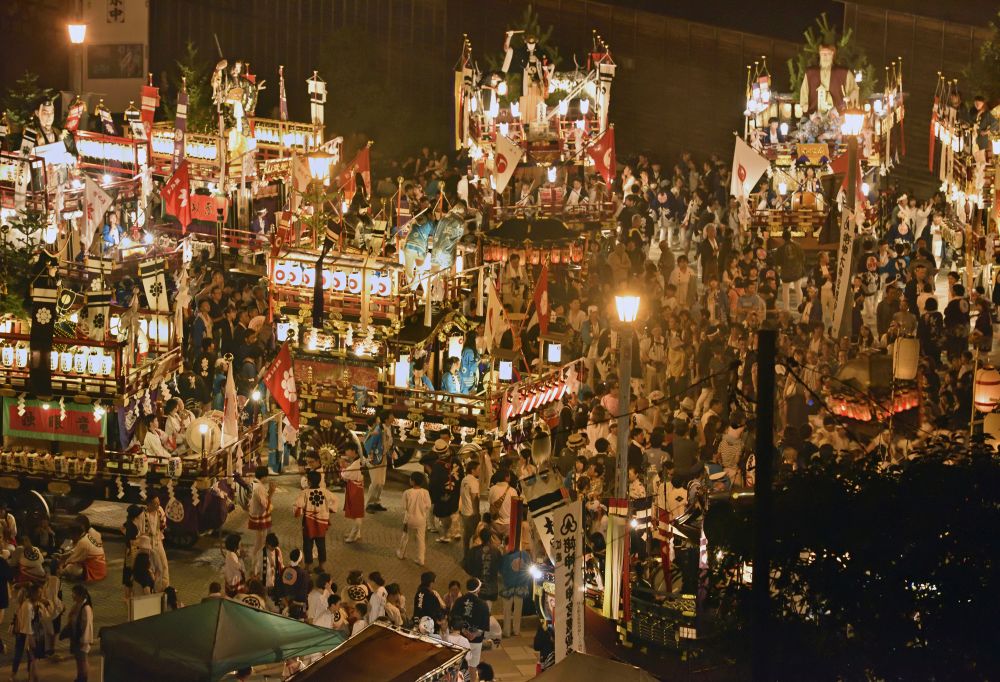 The origin of the Ubagamidaijingu Shrine Togyo Festival dates back to over 370 years ago and is known as the oldest festival in Ezo (Hokkaido). As the year's herring fishing came to a close, and the most prosperous Ezo town of Esashi entered summer, the lively festival would be held with appreciation for the plentiful herring. In Esashi, the structure accompanying the palanquin is called a "Yama," and the act of erecting a large Todomatsu (fir) on top as a totem of god is known as "Yama-wo-tateru (erecting the Yama)." Starting with the Jinguyama made between 1751 and 1764, thirteen gorgeous yamas featuring warrior dolls, Noh dolls, bunraku dolls, Kabuki dolls, and others parade through the town decorated with fluttering brocades and streamers. It is a summer festival that conveys, to the present, of a bygone era when the herring industry in Esashi prospered.
The pinnacle of Ezo prosperity, about 370 years ago, is reflected in this most historical festival of Hokkaido. It inspires passion in the people.

The Ubagamidaijingu Shrine festival is held every year on the 5th and 6th of May, the date when Emperor Kokaku bestowed the rank of Shoichii (highest rank given to a shrine). The splendid parade of floats, however, is held for three days from the 9th of August. As such, the Ubagamidaijingu Shrine festival takes place twice. In general, the Togyo festival days that feature the parade floats, is considered to be the actual festival.

The floats accompany the palanquins and parade around the lower town area on the first day and then all through the streets of the upper town area, centered around downtown, on the second day. The oldest parade float and brocade in the town are from Jinguyama, provided by a doll wholesaler from Kyoto between 1751 and 1764. It is a Hokkaido designated cultural heritage.

Each of the 13 floats has a history and is a treasured by the districts. Among these, the float named Matsuhomaru is particularly eye-catching for its splendor and was built in 1845 when Omiya Rihei invested large sums of money to commission a shipwright in Osaka. This Benzai ship is built entirely out of cypress. However, the wear from years of use became severe, and in recent years the local preservation association has repaired it at a cost of 15 million yen. The generosity of the neighborhood association comprised of few households emphasizes what this festival means for the people of Esashi.

The parade floats are accompanied by three palanquins. The oldest of them was made in Osaka in 1694. It is said that carrying a palanquin with an impure heart can lead to misfortunate, and when problems with the palanquin arose in the past, marine accidents and fires have purportedly occurred.

Although the history of Hokkaido is relatively short, this festival is one that proudly represents the ritual traditions of Japan.
【Inquiries】
Sightseeing Section
Oiwake Sightseeing Department
Esashi Town Office
Address: 193-1, Aza Nakauta-cho, Esashi-cho, Hiyama-gun, Hokkaido
Postal code: 043-8560
TEL: +81-139-52-6716
FAX: +81-139-52-5666