Yokoyama Family Merchant House
Yokoyama Family Merchant House
The Yokoyama family can be traced back over 200 years. In 1786, the first generation was engaged in fishing, trading, and wholesale. The current house was built about 160 years ago. In 1963, it was designated as a cultural property of Hokkaido. In the main house and the 4th warehouse, you can see tools and other items which were used for living in the golden age of herring fishing. It is one of the precious buildings to tell us how people at that time lived.
Temporarily closed due to sircumstances
Please look around outside
A bustle of merchants and Esashi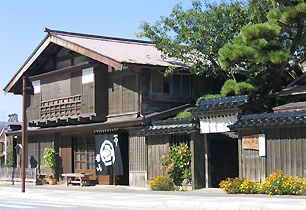 The Yokoyama family can be traced back over 200 years, and many household items remain.

The building is in the form of an eel bed. It starts at the entrance, then continues to a storage room and a living room. There is a seat at the side to see people walking through the garden. For a long time earthquakes have occured in the area so the house was built to withstand an earthquake and absorb the shaking. However, to do this the structure has to be able to move which results in the structure not being properly sealed. Because of this the house is very cold during the winter. There are 4 wearehouses with NOZAYA style roofs to protect it from snow and wind.

There used to be a lot of fires in the past, and there were many straws, iron sticks with hooks, pumps and buckets to fight the fires with. There are also wodden Paulownia safes to carry money when there is a fire.

The Yokoyama family had a ship called MYOJINMARU. Because Kitamae ships were large they moored offshore and moved luggage to a small ship which then carried it to a pier. At the beginning of the Meiji era, there were many merchants like this, but now there is only one. For that reason, it is a precious building that conveys the appearance of Esashi from the past.
Roots of Nishin Soba (Herring Buckwheat)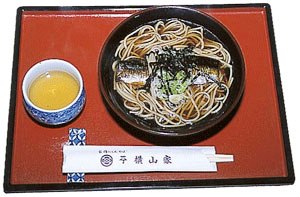 Known as a Kyoto specialty, "Nishin Soba" was once made by herring from Esashi by Kitamaebune via the Sea of Japan, on the Shuzan Road and Wakasa Highway. "The origin is Esashi, isn't it?" says the current owner of the Yokoyama family who is still protecting the taste of Nishin Soba in Esashi.
*All the toilets in the house are western style toilets.
【Inquiries】
Sightseeing Section
Oiwake Sightseeing Department
Esashi Town Office
Address: 193-1, Aza Nakautacho, Esashi, Hiyama, Hokkaido
Postal code: 043-8560
TEL: +81-139-52-6716
FAX: +81-139-52-5666

Regional Culture Section, Social Education Division
TEL: +81-139-52-1047
FAX: +81-139-52-0234