Esashi Town Meeting Hall (Former Town Office)
Esashi Town Meeting Hall (Former Town Office)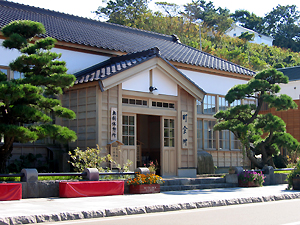 This is one of the main facilities for the historical town project (Inishie Kaido). Till November in 1993, it was used as the main government building of the former Esashi Town Hall. In April 2001, it was rebuild as the current Easashi Town Meeting Hall.
Location: 76-1, Aza Nakautacho, Esashi
What is a "Meeting Hall"? (The origin of the name of the Town Meeting Hall)
It was said that the former town government office was built as the town meeting hall with donations from the town citizens in 1845. Also it seems it had roles as the last organization of town administration such as introducing regulations/laws, making documents, managing lands owned by the town, etc...and it was a place where officers like Machidoshiyori, Nanushi, Chodai worked.
In Hokkaido, it is a unique monumental building that symbolizes the long history of self-government administration by the residents of Esashi.
It is also valuable for architectural methods in particular the roof structure.
The building of the former town hall has been with people living in the town of Esashi for one and a half centuries. Generally, the reconstruction of this time was to restore the appearance of the building that was built during the late Edo era, and reused the usable parts.

History;
1678 The building was moved to Esashi from Kaminokuni Hiyama magistrate's office.
1772 The building changed from Esashi Hiyama magistrate to the town magistrate.
1845 Built as a town government office with donations from the town citizens, and also used as a town meeting hall.
1872 Renamed to Tocho government office, combined with the pioneer office.
1887 Used as only the Tocho government office
1900 Renamed Esashi Town Hall due to the 1st-class town and village system
1956 Known as the new "Esashi Town" due to the merger with the former Tomari village
1993 Completed the role as a government office
After that, it was used as an Inishie dream hall.
2001 Was rebuilt as the current Easashi Town Meeting Hall as the base facilities for the historical development project.
Dourogenpyo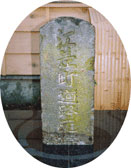 It is the original mark that is the starting and ending point of the five national roadways.
These 5 are; National roadway Route 227 connecting between Hakodate and Esashi (The former Esashi roadway), Route 228 connecting between Hakodate, Matsumae and Esashi, Route 229 connecting between Otaru and Esashi, Route 276 connecting between Esashi and Tomakomai, Route 277 connecting between Esashi and Yakumo.
Location: Aza Nakautacho, Esashi (in front of the Town Meeting Hall, The former Town Hall)
Owner: Esashi Town
Information about Esashi Town Meeting Hall (Former Town Office)
| | |
| --- | --- |
| Admission fee | Free |
| Openning hour | April till October 9:00-16:00 |
| Closing day | November till March ※Open for 7 days a week between April and October |
| Address | 76-1, Aza Nakautacho, Esashi |
MAP
【Inquiries】
Sightseeing Section
Oiwake Sightseeing Department
Esashi Town Office
Address: 193-1, Aza Nakautacho, Esashi, Hiyama, Hokkaido
Postal code: 043-8560
TEL: +81-139-52-6716
FAX: +81-139-52-5666