Hokkeji Temple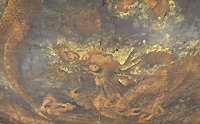 A dragon on the ceiling looking into the flow of time. Delivering solemnity into the present.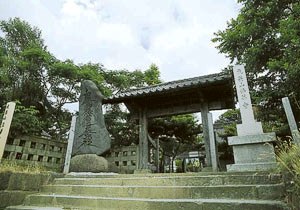 Established approximately 480 years ago in Kaminokuni and transferred to Esashi in 1665, the main hall was later built in 1721. It has retained the majesty of architectural beauty from the Muromachi era. The gate was built as the main gate to the Hiyama Magistrate's office and it is one of the oldest buildings in Hokkaido. The Happonirami Dragon on the 7㎡ ceiling in the main hall was believed to be painted by Taiga Ikeno who is the earliest known Japanese literary artist. In addition there are many other antiquities with high cultural value preserved here such as paintings of Buddha and "Byōbu", Japanese folding screens.
Happonirami Dragon (A Dragon Glaring All Around) in Hokkeji Temple(town designated tangible cultural property)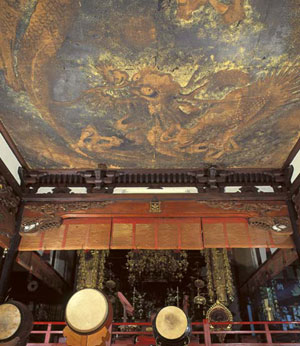 Esashi was a thriving trading port which brought together many people and cultures from all around. That is why there are many other shrines and temples in Esashi in addition to Ubagamidaijingu Shrine. About 710 years ago in 1291, a pupil of Saint Nichiren, Saint Nichiji went across the sea to Hokkaido and came to Kaminokunimura Kobori (known now as Kaminokuni Komori). There is a legend that he buried "Kyoishi" (a stone with writings of the sutra) here, and this is where Hokkeji Temple was later built. In the generation of the 14th high priest called Nissou, in 1661 it was reconstructed and named after Nissou's Buddhist title Jououzan and moved to Esashi Sawamachi. But it burned down and was rebuilt at the current location in 1721. The gate in Hokkeji Temple was built as the front gate to Hiyama Bansho (a guardhouse) and moved to the shrine in 1882. A more famous part of this shrine than the gate is the painting of Happonirami Dragon on the ceiling. Between 1789 and 1801, brother of Lord Matsumae, Hironaga Matsumae loved art and himself enjoyed painting. So he invited Taiga Ikeno the painter for whom he had known for some time, from Kyoto to Matsumae. Hironaga Matsumae asked him to paint the dragon on the ceiling of Hokkeji Temple as a donation. Taiga was known to be a strange man but was passionate about painting so he accepted the offer and took a ferry all the way from Fukuyama to Esashi to have a look at the shrine and draw up a plan. One day, Taiga Ikeno's wife Gyokuran went into the woods behind the house and saw a large snake staring at her. She was surprised and ran away to tell her husband. He returned to the spot and observed the snake for a while, and as soon as he came home he quickly created this masterpiece. The painting ended up as the painting on the ceiling of Hokkeji Temple. It's called Happonirami Dragon because you feel like you are being stared at by the dragon from every single direction. It should be passed on in Japanese art history as it has as much value as a national treasure.
Large explosion in Matsumae Ohshima and Tsunami incident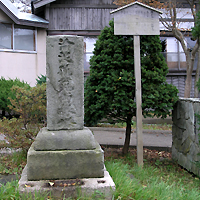 In July 1741, Matsumae-Oshima suddenly exploded. Subsequently, a great tsunami hit the coast between Esashi and Kumaishi, resulting in a catastrophe that lost 1,467 precious lives.
Kanpo tsunami monuments for the victims remain at Shogakuin Shrine and Hokkeji Temple.
【Information for Hokkeji Temple】
Address: 71, Aza Honcho, Esashi, Hiyama, Hokkaido
Postal code: 043-0043
■TEL: +81-139-52-0355
■Admission fee: 500 yen for adults, 250 yen for primary / secondary / high school students
*10% off for a group with 30 people or more
■Openning hour: 9:00-17:00
■Closing day: unfixed
【Inquiries】
Sightseeing Section
Oiwake Sightseeing Department
Esashi Town Office
Address: 193-1, Aza Nakautacho, Esashi, Hiyama, Hokkaido
Postal code: 043-8560
TEL: +81-139-52-6716
FAX: +81-139-52-5666

Regional Culture Section, Social Education Division
TEL: +81-139-52-1047
FAX: +81-139-52-0234