Esashi Higashi-Betsuin temple
Esashi Higashi-Betsuin temple
Entering the city of Esashi from the direction of Hakodate, a massive temple gate and a large tiled roof in the middle of the mountain draws immediate attention. It is one of the six historic Shinshu Otani-ha Betsuin temples in Hokkaido. Since its initial construction approximately 330 years ago, it has been a victim to three separate fires. The current building was completed in 1891.
Monument of Sanoichi, the oiwake founder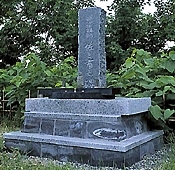 Sanoichi, also known as Sanoyaichinojyo, was a zato (old Japanese word for the blind; could also refer to the leader of a performance act) Biwa (Japanese string instrument) player who came to Esashi from Morioka between 1789 to 1801. It is said that it was Sanoichi's lyrics and musical arrangement that completed the Esashi oiwake and he is regarded as the founder of the Esashi oiwake. On the eve of the national Esashi Oiwake Competition held on the third Friday, Saturday, and Sunday of September every year, the Esashi Higashi-Betsuin temple holds a service in front of the Sanoichi monument within its grounds.
The mysterious ghost story surrounding the Esashi Higashi-Betsuin temple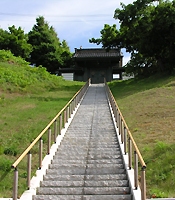 It was sometime between 1673 to 1681. Norihiro, the tenth feudal lord of the Matsumae clan, had the Osho (priest) of Hokkeji Shrine, rumoured to have had intercourse with his concubine, transferred to Monshoan in Kumaishi and sent a hitman to behead the priest. On the return trip to carry the head back to Fukuoka castle, the hitman lodged at Esashi Higashi-Betsuin Temple, then called Junshoji. But that night, the head burst the lid off of the Kubioke (bucket to hold a decorpulated head) stored in the main hall, and breathed fire wearing a fierce expression until the temple was quickly burned to ash. The head, however, is said to have not suffered a single burn as it remained within the main hall.
【Inquiries】
Sightseeing Section
Oiwake Sightseeing Department
Esashi Town Office
Address: 193-1, Aza Nakautacho, Esashi, Hiyama, Hokkaido
Postal code: 043-8560
TEL: +81-139-52-6716
FAX: +81-139-52-5666